Press release
タフな仕事に最適な頑丈なラップトップを選択する方法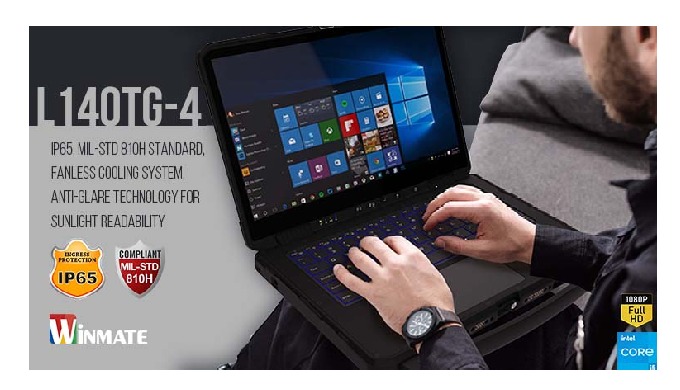 Start date: 2022/04/11 2:59
End date: 2025/04/11 2:59
Not all work can be done in a comfortable and safe office: some need to thrive in hectic, demanding, or dangerous environments. But finding a rugged laptop durable enough to keep up with the job is tricky. Drops, water, and even dust can damage a regular notebook. Yet without your IT device, work grinds to a halt until you replace it.
Choosing the right
rugged laptop
at the start can keep you in the long run. Military and
public-safety
-grade laptops are ideal for demanding use. But you need to know what to look for.
Weight and Size of Rugged Laptops
Portability can be a deal-breaker for tech. Nobody wants to haul a ponderous computer around all day. If additional protection and large screen size are essential for your work, extra weight was worth it. On-field teams like military and public safety personnel need a lightweight, functional, portable, and rugged laptop.
The
Winmate L140TG-4
gives you 14 inches of screen space, IP65, and MIL-STD-810H toughness at 5.6lbs (2.55kg). That's pretty light for a rugged laptop of this size than the other competitors.
Anti-Glare Screen to Save Your Eyes
Screen glare under the sunlight can hinder work, ranging from unclear visual to health issues like eye fatigue and headache. Construction, marine, and logistics businesses work outside in all weathers. So anti-glare technology is a must. No squinting means more productivity and fewer wrinkles.
Readability relies on high-resolution as well as anti-glare. Staring at a low-resolution screen with a low refresh rate all day can lead to
eye strain
. So, choose a laptop with at least a 1920 x 1080 full HD screen.
Securing Your Rugged Laptop
Whether you work in healthcare, logistics, media, or any other industry, you will want to keep your data private. Without proper security, you risk your sensitive data.
Winmate Rugged Laptop comes with encryption, secure locking, and
Trusted Platform Module (TPM)
. TPM secures your hardware with cryptology, and it ensures safety from unauthorized access to your hard drive.
A Kensington lock prevents physical theft of your device, and it anchors your laptop to a table or secure point with a cable looped through a security slot. Professionals have used it due to simple and effective since the mid-1980s.
Smart Card Reader and Removable SSD
Flexible optional storage: critical store data and optional 2nd removable M.2 solid-state drives (SSD) for up to 4TB of total storage.
Compatibility and Performance
Whatever your work, either analyze vast datasets, render designs, transfer files. The laptop has to have a fast processing speed. Winmate Rugged Laptop comes with a quad-core processor with speeds of 2.40GHz up to 4.20GHz will suit most tasks. Also, upgrading RAM from 8GB to 32GB is needed to increase work efficiency.
A touchscreen can benefit certain types of work. Winmate Rugged Laptops are double as tablets with multitouch gestures, pen, and glove functions for added flexibility. Work everywhere with tablet or laptop all in one device.
With the above-mentioned, connectivity is becoming crucial these days. High-speed WiFi and 4G LTE will keep you connected everywhere. Furthermore, logistics, military, and vehicle-mounted industries can use GNSS to locate personnel or map directions. Learn more about how Winmate communication technology
helped public safety security
in the USA.
Flexibility and Freedom
Flexible dual hinges allow the L140TG to transform from a laptop into a tablet computer. They are stiff enough to prevent the screen from wobbling when you tap on the glass, yet flipping the panel around to transition into tent or tablet mode doesn't require much force. It strikes the right balance between sturdy and practical.
Winmate Rugged Laptop is an innovative solution designed to help the challenging work of the public sector (police, fire brigades, and SARS services) where other technology often fails. The device offers communication and data exchanges for the operation center and on-field commanders with various management and decision support tools during an incident. Whether you want to increase the speed of service, work standard, efficient on-site communication, etc., Winmate can help. We provide rugged mobile solutions that can increase productivity in the area.
Please speak to one of our experts to explore the hardware that can best help achieve your goals.